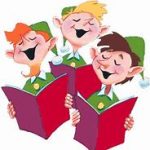 Journey with us this Christmas season as we take a look at the history and origin of the Christmas Carols we all know and love. We'll be looking at some traditional favorites including Jingle Bells and Silent Night – you just might be surprised by what you learn!
Week 1: Bells Are Ringing
Week 2: Winter Wonderland
Week 3: It's a Jolly Christmas
The course will run from Dec 16th to Jan 3rd. Enroll now for only $5!