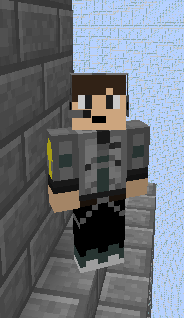 Background: I have always answered the question, "What are you going to do when you grow up" with, "Wherever God leads me." As a result of this, God led me here, to MCS. I started out as a student, but through a series of "coincidences" that can only be described as God's provision I am now the Vice Principal here at Minecraft School. I'm constantly learning more and am having a great time helping our students enjoy their experience on our servers.
Education: High school graduate, currently attending Charis Bible College
Dreams: I dream of serving God in all that I do. He has already proven that if I trust in Him he will lead me down paths far beyond my wildest imaginings (Proverbs 3:5-6; Ephesians 3:20). I may not know exactly where He will take me, but I'm certain that it will be a wonderful ride and that He will never lead me astray.
Contributions to MCS: I am primarily responsible for the Minecraft infrastructure, but also help with office administration when necessary. My tasks include Minigame configuration, overseeing map development, plugin configuration, staff management/training, and assisting with e-mails and incident reports during times of high volume.