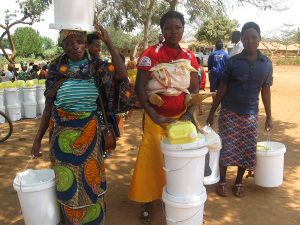 COST:    $15 – Ungraded
…………….$20 – Graded
…………….$25 – Graded + Portfolio
DESCRIPTION: 
In 1994 the Genocide against the Tutsi took the lives of more than one million people. It also left Rwanda the poorest country on earth. Its social, political and economic structures were destroyed. Twenty years later, Rwanda has forged a new path of citizen-centred development. However, the country still struggles with some of the worst poverty on the planet. Access to clean drinking water is one of the most inhibiting conditions its citizens face.
Join us on an adventure through the reality of poverty in our world and experience it in tangible ways in Minecraft. You will struggle in our Minecraft world in ways that can only brush the surface of the struggles that Rwandans live with everyday. Can you climb out of poverty by working together to come up with solutions to help those around you?
This class is not recommended for students under age 10 due to the harsh realities of this topic and the study materials that will be presented throughout the course.
Weekly Topics: 
Week 1 – I am NOT Drinking That!
Week 2 – Let's Start a Bank!
Week 3 – Let Me VOTE!
Week 4 – My Solution
Week 5 – Fix the Globe
Week 6 – Capstone Project