Government 1 – Government around the World
What is government?  In this course you will discover that the answer to this question is different depending where in the world you are.  Communism, socialism, and capitalism will serve as our examples in this study of governments, political parties, and presidential power.  Join us and find out who is in charge in your country and around the world.
Weekly Topics:
1 – What is Government?
2 – Political Parties &  Presidential Power
3 – Communism
4 – Socialism
5 – Capitalism
6 – Capstone Project
Government 2 – U.S. Documents
What gives the people of the United States of America their "unalienable right"? What gives government its power?  Who is in charge and how did they get there?  What does it mean to be a red state or a blue state?  Join us as we adventure through the documents of our founding and then take a look at the electoral college and political parties of this great nation.
Weekly Topics:
1 – Constitution
2 – Bill of Rights
3 – Article of Confederation
4 – Preamble
5 – Electoral College & Political Parties
6 – Capstone Project
Government 3 – Government & Our Markets
Who has the right to vote?  What does it mean to be a citizen of your country?  What is the stock market and how is that related to supply and demand?  These are just some of the questions that you will tackle in this course. Join us as you build a country in Minecraft and recruit citizens, award citizenship, and set up goods and services for them to spend their money on.  Finally, you will learn how to spend and save wisely.  Your country will survive if you master all of these topics.
Weekly Topics:
1 – Types of Government
2 – Voting & Citizenship
3 – Stock Market
4 – Supply & Demand
5 – Spending & Saving
6 – Capstone Project
Government 4 – Introduction to Economics
The world of economics is full of ideas that will help you spend your allowance wisely.  Learn how to run cost versus benefit analysis, plan a budget, and chart and graph your money.  Taking an adventure to your country's border will allow you to study the imports and exports fueling your economy.  Finally, you will find out how money is printed for this whole amazing world of economics.  Join us and you will never spend your money the same again.
Weekly Topics:
1 – Cost & Benefit
2 – Imports & Exports
3 – Planning a Budget
4 – Charts & Graphs
5 – Printing Money
6 – Capstone Project
Government 5 – World Powers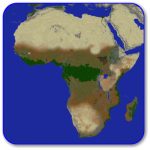 You probably already know that our world is divided up into continents, but do you know which is the most powerful nation or region on each continent? In this course you will find out! Each week we will visit a different continent and look at several key countries. Topics of study will include types of governments, gross domestic product, and a review of how our world powers stay at the top of their game.
Weekly Topics:
1 – North America
2 – Europe
3 – Africa
4 – South America
5 – Asia
6 – Capstone Project