Our World 1 – Dinosaurs to Ocean Depths
What do you know of creatures as big as your house?  In this course you will kick off your exploration with a look back to the age of dinosaurs.  As an archaeologist, you will evaluate the biomes of taiga, tundra, desert, and rainforest to find out what ancient clues they hide from the far distant past.  If your journey is successful, you will be rewarded with a visit to the Biome Game – do you have what it takes to explore and compete?
Weekly Topics:
1 – Dinosaurs
2 – Taiga & Tundra
3 – Deserts & Rainforests
4 – Underwater World
5 – Biome Game
6 – Capstone Project
Our World 2 – Forces at Work
In this course you will be challenged to create fantastic inventions that illustrate the concepts of  gravity, acceleration, energy sources, and electricity using only common household items.  In Minecraft we will run tests to determine if the world is "real".  Does gravity work the same?  What about acceleration?  Gear up for a course in invention and discovery.
Weekly Topics:
1 – Force & Work
2 – Gravity  & Acceleration
3 – Energy Sources & Electricity
4 – Properties of Matter
5 – Matter & Measuring Matter
6 – Capstone Project
Our World 3 – Science at Work
Experimentation is fun, but when you are a scientist you also need to worry about precision, accuracy, and documentation.  In this course you will take your experiments to the next level with the scientific method and cool science tools.  You will meet some of the amazing nobel prize winners that have helped shape the world of science and you will design a science project of your own.  Don't miss your chance to elevate to the rank of science master.
Weekly Topics:
1 – Scientific Method
2 – Precision & Accuracy
3 – Science Projects
4 – Science Tools
5 – Nobel Prize
6 – Capstone Project
Our World 4 – Energy at Work
The world of energy is under constant study as scientists look for better ways to power our world.  Throughout this course you will evaluate the various types of energy, starting with an understanding of potential versus kinetic energy.  Thermal energy, temperature, conduction & convection, radioactivity, and nuclear energy are some of the electrifying concepts that you will take on in this power charged course!
Weekly Topics:
1 – Potential & Kinetic Energy
2 – Thermal Energy & Temperature
3 – Changing States of Matter
4 – Conduction & Convection
5 – Radioactivity & Nuclear Energy
6 – Capstone Project
Our World 5 – Chemistry Challenge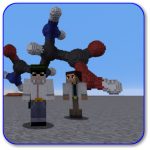 This course is packed full of amazing experiments that show off the basic building blocks of chemistry. Each week you will tackle several new concepts and then grab some basic kitchen items to show off your new chemistry knowledge. In Minecraft we will evaluate the world for chemical reactions, mix potions, and see if we can change slime into something spectacular.
Weekly Topics:
1 – Walking Water & Vinegar Explosions
2 – Milk + Soap = Magic
3 – Grow Your Own Crystals
4 – Elephant Toothpaste
5 – Salty Science
6 – Capstone Project
**Currently undergoing updates — Look for this course and more in Spring 2018**