These Courses come in both Middle and High School formats. Please be sure to specify which variant you would like on your enrollment.
Courses may be taken in any order
Creative Writing 1 – Master Chef

Do you have what it takes to compete in the kitchen, Master Chef style?  Build a world class restaurant, develop your signature dish, advertise to draw a crowd, and critique your competition.  This fast paced course will put your culinary skills and creative writing to the test!
Week 1 – Dining with Adjectives
Week 2 – Four Star Food
Week 3 – The Best Dish in Town
Week 4 – Bringing in the Crowds
Week 5 – You're the Toughest Critic
Week 6 – Capstone Project
Creative Writing 2 – WordCraft
Do you have what it takes to compete on the stage of the Sydney Opera House?  Can you craft a piece of writing more valuable than diamond?  This exciting course will put your building skills and wordcrafting to the test!
Week 1 – Opera Houses and the Acrostic
Week 2 – Cinquain/Diamanté and the Forces of Nature
Week 3 – Haiku and the Horizon
Week 4 – The Ballad of your Life
Week 5 – Epitaphs in the Graveyard
Week 6 – Capstone Project
Creative Writing 3 – A World of Imagination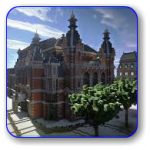 Join us on an adventure through the literary genres of fable, play, and mystery!  Taking our inspiration from some of the best writers history has to offer, we will fine tune our own writing skills as we create dramatic and fanciful worlds for our readers to explore.  What better way to illustrate our creations than to build them out in Minecraft! If you are ready, we will film your play and share it with all of our friends on social media! Your first step towards becoming a star is right here with a World of Imagination.
Week 1 – Fabulous Fables from the Past
Week 2 – Fabricating Fables from Imagination
Week 3 – Popular Plays from the Past
Week 4 – Performing YOUR Play
Week 5 – Mysterious Mysteries
Week 6 – Capstone Project
Creative Writing 4 – Build Your Own Adventure
Have you ever wanted to create your own Minecraft Adventure Map and see if your friends could solve it?  Here is your chance!  We will create an exciting plot, setting, and mystery, both on paper and in game.  Test out your concept on fellow students and get their reactions to fine tune your work!
Week 1 – Setting the Scene
Week 2 – The Usual Suspects
Week 3 – Adding Intrigue
Week 4 – Building Tension
Week 5 – Satisfying Conclusion
Week 6 – Capstone Project