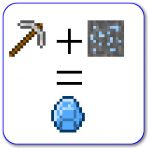 This course requires an iPad for the Splash Math Worksheets, in addition to computer Minecraft.
Each week your student will learn one or more new concepts and then practice what they have learned in Splash Math.  This is a full 30 week math program that you purchase in 6 week increments.
You may start in any session. Once the math concepts are mastered, your student will apply what they have learned in the Minecraft world.  
PLEASE NOTE: All math courses require an iPad and the purchase of Splash Math from the app store for $9.95.  Please do not let your student start the app prior to the class.
Splash math is a fun and interactive "smart learning system" that allows students to earn stars to unlock special prizes and games. Each star takes approximately 10 to 20 minutes of gameplay to earn.  The numbers in parentheses below indicate the  number of stars your student will learn in each topics for the given week.  Find out more by clicking here to visit the Splash Math website.
Unit 1
Week 1 – Place Value (3), Addition (6)
Week 2 – Number Sense (3), Fractions (3), Time (3)
Week 3 – Addition (3), Fractions (6),
Week 4 – Subtraction (6), Decimals (3)
Week 5 – Number Sense (3), Addition (6)
Week 6 – Capstone Project
Unit 2
Week 1 – Place Value (3), Subtraction (6)
Week 2 – Number Sense (3), Fractions (6)
Week 3 – Subtraction (6), Fractions (3)
Week 4 – Place Value (3), Decimals (3), Measuring/Data (3)
Week 5 – Multiplication (6), Time (3)
Week 6 – Capstone Project
Unit 3
Week 1 – Number Sense (3), Multiplication (6), Measuring/Data (3)
Week 2 – Place Value (3), Division (6)
Week 3 – Multiplication (6), Geometry (3)
Week 4 – Division (6), Measuring/Data (3)
Week 5 – Multiplication (6), Measuring/Data (3)
Week 6 – Capstone Project
Unit 4
Week 1 – Multiplication (6), Geometry (3)
Week 2 – Division (6), Measuring/Data (3)
Week 3 – Multiplication (6), Geometry (3)
Week 4 – Division(6), Measuring/Data (3)
Week 5 – Division (6), Advanced Multiplication (3), Money (3)
Week 6 – Capstone Project
Unit 5
Week 1 – Measuring/Data (6), Advanced Division (3)
Week 2 – Advanced Multiplication (3), Advanced Division (3), Measuring/Data (3)
Week 3 – Measuring/Data (6), Advanced Multiplication (3)
Week 4 – Advanced Multiplication (3), Money (6)
Week 5 – Advanced Division (6), Money (3)
Week 6 – Capstone Project